Last updated on October 18th, 2022 | By: Grady Galvez
Pressure washers cannot work without a helping agent to give perfect results while washing or cleaning. These agents like soaps, detergents, and other cleaning agents not only speed up the cleaning process but also help in removing even the most stubborn stain.
Plus the combination of pressure washer combined soaps or detergent washed with hot water produces excellent results in washing and cleaning. Research has shown that hot water tends to push stains and dirt with more force and energy than cold water.
So when used with a pressure washer the hot water along with soap and detergent removes 100% dirt and gives an absolutely clean surface.
But before implementing the above-stated option there are a few points that you should understand, that would help you avoid any health hazards from happening to your pets or garden when using the cleaning solution or pressure washer chemicals.
1. Understand The Difference Between Detergent And Soaps:
Soaps:
Soaps are in fact a type of detergent and are made from natural sources like oil from animals and plants and also fats. It is made through a chemical reaction in which salts are combined with the above-stated products and is proceeded down into glycerol and fatty acids with the help of steam. The final product is known as soap.

The Liquid soap and Bar soap use potassium and sodium as salts respectively.

The dirt and stain are removed when the soap is mixed with water and breaks at the microscopic level.
[amazon box="B01BMB4CUY,B00103XN8M,B005FMZ53A" grid="3″]
Detergents:
While soaps are all made from natural elements the detergent are man-made chemicals.

Clothes are cleaned with them.

These two break down at a microscopic level mixed with water and break down dirt, stain, and grime.
[amazon box="B07DV21X32,B01BMB4C86,B07FQ4JBYD" grid="3″]
For Pressure Washing When is Soap Used and When Detergent?
The best thing about soap is that it is biodegradable so it can be easily washed into storm drains. The only thing to be cautious of using pressure washer soap is that it cannot be used with rainwater, untreated water or collected water as this form of water is hard water. Now, this creates calcium carbonate on the surface and you would not want that to happen to your surface.
Detergents do not have this kind of problem. Moreover, the detergents are proved to be most effective for surfaces made of wood and concrete. While also a great cleaning solution can be used by combining synthetic solutions and natural soaps for pressure washers.
2. How Does A Pressure Washer Injector, Soap Nozzle, And Dispenser Work?
The detergent soap should be put to the pressure washer's water flow after downstream and before upstreaming the pressure washer pump. For injectors to allow more options only a few chemicals should be allowed through the pump.  The soap nozzle should be used with the downstream soap injectors. The soap nozzle draws off the solution containing the detergents from the bottle of detergent inside the pressure hose for use on the surface.
3. The Difference Between Professional And Residential Pressure Washer Soap, Detergent, Cleaning Solutions And Chemicals
There are different usage as some pressure wash their house a few times every month while some pressure washes professionally as a job or service. This determines whether you need the professional ones or the residential ones for your use. The professionals who pressure wash daily buy the chemicals in bulk and make the solution themselves as per their daily requirement.
If you just want to clean your patio or home a few times a month then you should just buy the pre-mixed solution in the one-gallon pack and that should do. Although the end cost would be more as you would be needing only a little of that.
4. The Types Of Chemicals Integrated In Different Types Of Power Washer Detergents And Soaps.
Manufacturing right every chemical composition on the surface of the package. There are sanitizers that kill 99.9999% bacteria in less than half a minute, cleaners that remove dirt, and disinfectants to destroy organisms in 10 minutes. The compositions usually come in the below-listed compositions:
Citrus extract – Concrete carport and wood deck cleaning and stain expulsion.
Oxalic Acid – Rust expulsion and another cleaning.
Fade – sodium hydroxide and sodium hypochlorite.
Sodium Hypochlorite – Stain expulsion and ground-breaking disinfectant.
Sodium Hydroxide – Disintegrates fats and oil. Degreaser for steel and glass.
Smelling salts – Common glass cleaner and tempered steel more cleanly.
Potassium Hydroxide – Used to make a delicate or fluid cleanser.
5. Check If Pressure Washing With Detergents And Soaps Is Harmful To Your Garden Or Pet?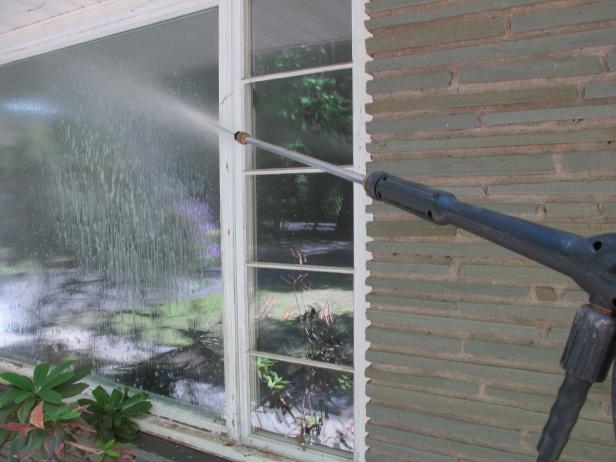 Whenever buying pressure washer detergents or soaps always make sure that they should be non-toxic and environmentally friendly. People neglect this aspect which results in harm to their pets and garden and even children.
6. If let Down Storm Drains, Pressure Washing with Power Washer Cleaning Solutions and Soap is Harmful to the Environment
Always ensure that you check the label before buying the pressure washing cleaning solution and check whether it is biodegradable. As otherwise, the water let down storm drains can be an environmental hazard.
7. Would It Be Easier To Pressure Wash The Surface With Soap Than Without It?
This can be easily demonstrated in your own kitchen. Try washing the oil-soaked utensils in cold water without soap or detergent. You would very well come to know how important soaps and detergents are to remove stains. Cleaning the surface with a pressure washer combined with soap and detergent is the most ideal cleaning solution.
8. User Experiences Using A Pressure Washer With Soap And Detergent.
These are in the priority list of car detailing kit you can ask to any shop or any car wash across your neighborhood about the cleaning products almost every one of them uses a power washer to clean the client's car. Everyone uses many different varieties of solutions to wash cars with pressure washers. The one thing that is an absolute necessity is the pressure washer detergent.
9. The

Best

Gas And Electric Pressure Washer To Add Soaps And Detergents Easily
The all new AR Blue 1.4 GPM Clean AR390SS 2,000 PSI
This model is the perfect option for an electric pressure washer which contains downstream injection. This pressure washer is great in saving your time and I also use very less quantity of water.
Because this gives you the flexibility of changing the detergent that you need according to the surface that you are cleaning the back deck, house siding, shed roof, and many more. This pressure washer does it all with ease.
This pressure washer has a soaping nozzle and also onboard detergent tank which makes it really the frontrunner in electric pressure washer with detergent and soap option.
Gas Electric Pressure Washer
Simpson 2.5 GPM Megashot 3, 100 PSI
This is my top choice in gas powered pressure washer. This comes with a detergent injection system with 100 PSI power. Although it is void of any detergent holding or storage tank you can use your any household jug for the detergent solution.
The pressure washer comes with an injection system with a black tip soap nozzle and a siphon hose. You put the dark cleanser spout and the hose inside the cleaning solution. When you begin splashing the cleanser will be infused into the framework and you will clean with it.
10. The List Of Best Pressure Washer Detergent And Soap For Each Surface.
Best Car, Boat, Motorcycle or RV Pressure Washer Soap
Karcher 9.558 – 121.0 Vehicle Wash & Wax
This pressure washer detergent is best for washing an RV, motorcycle, boat, or car with ease and with proficiency. Just make sure to purchase 1-gallon bottle of this product.
For solution preparation, you need to mix 10 cups of water with 1 cup of this detergent. This can be used to get at least 20 washes out of your pressure washer.
Best Power Washer Detergent Soap For Concrete:
Simple Green 18202 Concrete and Driveway
The simple Green concrete cleaner is best for use with pressure washing walkways, patios, and driveways with much ease and comfort. For preparing this solution the company provides a 1-gallon jug from which we can easily prepare 11 washes of pressure washing.
This may vary depending upon the area of the concrete or surface it is used. It is best for removing grease, grime and oil from the surface.
Fence or Deck Pressure Washing Cleaning Solution
Deck and Fence Krud Kutter DF01
Deck and Fence Krud Kutter cleaner is perfect for cleaning fences or decks. It is good on them as it is void of any ammonia or bleach and uses sporex which is very effective in removing moss, algae, mildew or mold from wood areas.
The usage is simple: you need to first wet the wooden surface then you need to spray the water with soap than just add the Krud Kutter solution to the pressure washer and wait for at least 5 minutes.
This is now ready to be used with a pressure washer. Just make sure to apply it from top to down on places which are vertical.
Best Pressure Washer Detergent for House Siding
Krud Kutter HS01 House and Siding
This is a very nice product especially for house usage as it is eco-friendly and is void of any petroleum solvents. For usage, you just need to mix this Krud Kutter solution in a 1:10 ratio of liquid preferably water. This one bottle is efficient enough to clean more than 2000 square feet. The plus point that makes this stand out is that this solution is designed to slow down the regrowth of mildew and mold. Which makes it accurate for home and siding cleaning.
Best Pressure Washer Soap Multipurpose:
Simple Green Pro HD 13421
Now, this pressure washer cleaning solution has it all. It is multipurpose and can be effectively used for almost any surface. It can be used on floors, cars, metal surfaces, and walls with equally satisfying results. The customer reviews are also very favorable for this product. It has this unique ability to not only clean the concrete and cars but also decreases the metal of the car and make it shinier.