Owning a car comes with great responsibility, as it needs to be kept in perfect order. Keeping your car clean is a challenging task, but is made easy with the high-pressure cleaning tools which are specially designed for this. From carpets to upholstery, plastics to any car interiors these high-pressure cleaning tools are the best solution. Many places in the car can't be reached, but these blowy breezy washing devices can clean those not reachable spaces too. Keeping your car clean inside out is an extremely important thing, and is made quite affordable with cleaning tools. Now you can just clean your car at home with ease and comfort.  Just read along with the guide for details.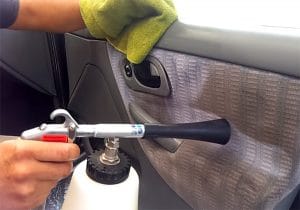 Fochutech Car Cleaning Kit Interior Pro Car Detailing Kit High-Pressure Car Cleaning Gun
The Fochutech car cleaning kit is a powerful tool that is powered with a 360-degree high-rotating cleaning gun for cleaning surfaces that are difficult to reach and can almost clean any automotive surfaces. The cleaning any air drying can be done is just seconds, so it saves you a lot of time. The most demanding tasks can be performed with ease. The FochUtech is a user-friendly car detailing tool that has an air compressor, jet stable airflow or mist. Any kind of dust or grime can be cleaned and removed quickly from solid surfaces, carpet or fabrics.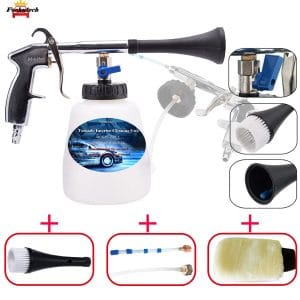 This one possesses strong cleaning power and saves car wash soap also. This one is suitable for internal and external cleaning parts of the car. It facilitates great cleaning for the engine, wheel, air vent, ceiling, steering wheel, seats, doors and more. This one is certainly a multipurpose device, that helps in domestic cleaning such as sofa, computer, window, blinds, microwave oven, leather shoes, fans, etc. The additional copper ring prevents the oscillating tip from being blown off, as it requires high pressure while working. Premium quality synthetic material is used to manufacture nozzle, brush, and valve. This one is durable and boasts of excellent elasticity for anti-smashing purposes. 
Pros: 
✔️ An affordable and efficient option
✔️ This features a high-power spray
✔️ The parts can be easily replaced
✔️ It can be easily be attached with a garden hose (standard) 
✔️ A DIY product even eliminates the need to visit a car wash
✔️ Helps in wet and dry cleaning
Cons:
❌ The air compressor has to be bought separately
Supercobe Car Cleaning Tornado Gun – Black Edition
This amazing cleaning tool gives a powerful cleaning session at home. The Tornado gun is attached to a 240-volt air compressor and a large cone-shaped cleaning head. This one comes with very low wear and tear and maintenance. It consumes air in minimal quantities, is compact and comfortable making the user's task easy. So, without any worries, you can just do the cleaning of any sort. This model is new and an improved version of the older alternatives. This one is certainly a high-pressure cleaning tool, and that can be witnessed by doubling the power of your tornado.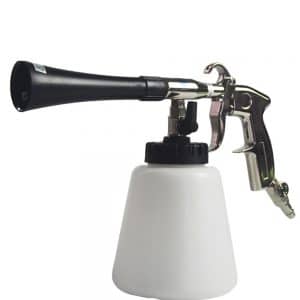 A cleaning tool that is super stable has a long-life span along with durability and reliability. One more quality that makes this one unique is its efficiency to work quietly. Many of the high-pressure cleaning tools are loud and noisy but this one is a good one to use without disturbing your neighbors even in odd hours. It just makes a faint purr while working, and the user can easily concentrate on his job while operating it. The toughest of cleaning can be done with this.
Pros: 
✔️ The Tornado is a super powerful device
✔️ Comes with easy maintenance
✔️ Consumes very less air and low air emission
✔️ A very durable and compact high-pressure cleaning tool
✔️ Durable alloy wheels are used for its construction
✔️ It is compatible with a 240 V air compressor
✔️ Works efficiently and quietly
Cons: 
❌ This one doesn't come with a PSI rating
Apriling 1L Car Cleaning Gun Tornado Foamaster Washing Cleaner Kit
The Apriling car cleaning gun is manufactured brilliantly to give you powerful cleaning with absolute ease. This one is a horned head with brushes and can clean and dry in just seconds. This one is certainly a breezy wonder. The product is specially designed for Americans and comes with a connecting facility with most of the air compressors that are low-powered. This awesome product can clean almost everything, great indeed!
From cleaning cup holders to consoles, shifters to door panels, seat belts, retractors, car upholstery, wheel surfaces and more.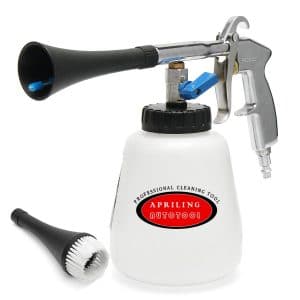 This one is the latest version and is designed with perfection, possesses a small air compressor, and the car cleaning gun makes cleaning easier and faster. It can eradicate dust and grime which might be deep-set for long. This one is made up of aluminum alloy and has an attached detergent container for easy cleaning. A product of premium quality and is easily compatible and made of nylon composite molecules (high-strength). The stainless built washing cleaner gun lasts long. You can remain stress-free as it comes with a 100% money-back guarantee, and for any replacements the manufacturer can be contacted.
Pros: 
✔️ This one features multiple cleaning heads for multipurpose use
✔️ The handle is made with aluminum alloy
✔️ So amazing and can clean everything
✔️ Suitable for cleaning many types of surfaces
✔️ Facilitates high pressure cleaning wet and dry both
✔️ Boasts of a 100% money-back guarantee
✔️ The nylon bristles make the cleaning easier
Cons: 
❌ This one doesn't blow water
Umiwe Car Cleaning Gun 
One of the most preferred ones when it comes to car cleaning. This one is a powerful and unique high-pressure cleaning device. This one features an air compressor of a small size that is attached to it. Works tirelessly to clean the greasiest of vehicles, and proves true to its value. The complete kit includes parts such as multiple cleaning heads (a horned head and a bristled horn head). The alloy handle is a sturdy one, made of aluminum alloy handle and has plastic canisters and cleaning heads.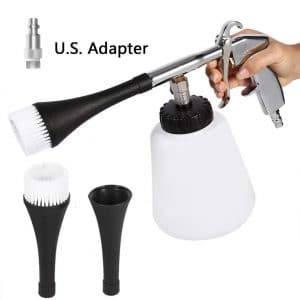 This one does carefree and hassle-free cleaning. Performs noiselessly, without any disturbances and is constructed with strength. The Umiwe car cleaning gun requires very little maintenance. A good option to buy as will suit your budget too. By rinsing the canister and scrubbing the connectors, this goes on for a long time. 
Can clean car exteriors and interiors without the need for a car service help. This one is best suited to clean the consoles, cup holders, doors, leather surfaces, upholstery, other difficult to clean nook and corners and more. This is equipped with an adjustable valve, making cleaning possible with or even without water. This versatile one can be used to clean household objects also. The positive views of customers make it a solid product of preference. 
Pros: 
✔️ This one comes with American adapters
✔️ The alloy handle is durable and made of aluminum
✔️ This works quietly and efficiently
✔️ The kit includes multiple tool cleaning attachments
✔️ The water and detergent container is attached to the bottom
Cons:
❌ It can't be attached to a garden hose for direct water supply
Buying Tips and Cleaning Tips
Proper guidance certainly gives us a positive push to go ahead with our handy, cleaning gear. This article will certainly provide you with tricks and tips that will help you clean your car inside out with ease and comfort. Just feel and see the jaw-dropping effect after a perfect clean given to your car. The undermentioned guidelines will help you go forward in a proper manner
The nozzles
The nozzles come in horn shape, that makes the spray narrower for easy direction. As there are different kinds of pressure washers, as some come with interchangeable heads. The sprays might have bristles, for detailed cleaning, but they might wear out with time. It has to be kept in mind that the replacement should be possible in case of any damages.
The material of the pressure washer
A good and durable pressure washer always comes with a long life. The pressure washers should be of premium quality such as aluminum or metal, that prove safe and sturdy for the user. A quality high-pressure tool will always provide you with life-long help and satisfaction.
The control
Whenever you choose a pressure washer, you should be able to shift between cleaning settings wet and dry both. A washer that gives you good control makes an efficient one.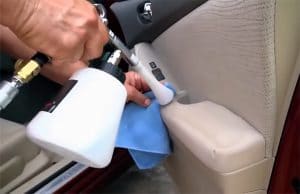 Versatility
The high-pressure cleaning tools are the ones that can almost clean everything, along with cars. Just bang!! And clean your house spaces with these magical devices. Household objects, outdoor furniture and a whole lot of things can just be made to sparkle. 
The tool's compatibility 
Mostly, the pressure washers are manufactured such, that they can directly be attached to a smaller air compressor. Others can be attached to a standard garden hose for delivering water with high-pressure. Some also come with small canisters of plastic that can hold detergents or water.
The tool's pressure
These high-pressure cleaning tools have the ability to shoot water with impressive pressure. The measurement unit being PSI (pounds per square inch).  The intensity of this power washing can be easily controlled with cut-off valves and nozzles that are adjustable to use. It is advisable to use washers under a PSI of 1500, as above this paint might get damaged and also the external components on the vehicle. 
Furthermore, the water flow of the washer should also be monitored properly. The washers possess a lower water flow than the garden hoses. But without a doubt, the washers are powerful cleaners. 
Advantages of using a cleaning tool with high-pressure
Before buying a product, confusions prevail in mind, isn't it? You always feel whether the amount you invest will be worth it or not. Furthermore, knowing the benefits of high-pressure cleaning tools, makes you feel relaxed and you will be convinced that a one-time investment will save a lot of money in the future, as your car servicing costs will be cut. Feels good, really!
The efficiency of Pressure cleaners
Cleaning with pressure cleaners and pressure is extremely beneficial and I totally agree with this. Daily before leaving for office, I wash my car to remove dirt, pine sap, bird poop, and other sticky materials. Before I bought my personal high-pressure cleaning tool, cleaning the car with a simple garden hose was a tiring task with not any effective outcomes. But the pressure cleaning has completely changed the cleaning methodology. As mentioned in the article above these high-pressure devices work efficiently, to perform their best whether cleaning upholstery, carpets, consoles, vents or more. 
The stains, dust, grime is tough on carpets and other car surfaces, but the high-pressure cleaners are tougher on them. The nastiest of the waste can be cleaned in minutes with these.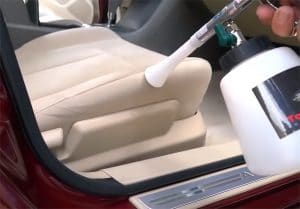 Saves money, but how?
These cleaning tools are cost-effective in every way. Let me explain to you, the car cleaning if done with a pressurized tool, omits the need for any extra buckets, hoses, sponges, etc. The amount of water they require is also minimal as compared to the other garden hoses.
Just remember this
So much has been written in the article by now, but still, a few more angles left unexplored. What more to be found out before buying a high-pressure cleaning tool. 
Some Tips And Tricks
(i) The settings you go for should always be gentle, try to keep it below 2000 PSI, in order to avoid damages to paints or vehicle elements.
(ii) Any of fragile parts of the vehicle like windows, mirrors or antenna should not be pressure washed, as they might not be able to withstand high pressure
(iii) The vehicle should be rinsed perfectly, as any leftover soap scum can lead to trapping more dust. Before putting the washer aside, just do thorough rinsing
(iv) Start cleaning from top and end at the bottom. This is a simple thing that washing should be started from the top, so that dirt or debris can easily go down.
(v) Hard surfaces are a better option to park your vehicle before giving it a pressure wash. Uneven surfaces with stones or dust can lead to a messy affair or even damages. 
(vi) The detergent container should be emptied after cleaning, as clogging or rusting may occur with leftover soap scum
(vii) The air compressor you choose should have a PSI between 1200 to 1900. More than this might be harmful and less might be messier.
(viii) The spraying shouldn't be done in the engine cavity, as the working components might get damaged. 
Maintenance and Safety
Some safety measures should be followed by the user to avoid injuries or damages. A misdirected or unruly pressure washer might prove harmful and cause damages of any sort.
1. Wear clothes which can provide you protection like gloves, goggles, a shirt with long sleeves and pants. If you have covered yourself properly, then any sort of dust, pieces of rock won't harm your skin or eyes. 
2. Shoes should be slip-resistant. While using pressure washer it might be difficult for you to walk properly, due to water or detergent on the ground. Any wrong might be hazardous for you as this activity involves plenty of water. So be careful with your shoes.
3. Electrical components should be kept away. The air compressor should be in a condition to tolerate wet conditions. Electricity with water can be dangerous. 
4. Keep pets or others away. It may prove extremely harmful if the direct exposure of spray is done to any, so it should be avoided.
5. The distance should be appropriate. If a reasonable distance is not maintained then the user or the vehicle can be harmed.
6. The vehicle should be parked properly. Pressure cleaning may lead to damages to any foreign object on the side.
7. Keep a check on electric bills. A low wattage compressor should be used, to keep electricity consumption in control.
Washing tips 
(i) The vehicle should be parked on a flat and clean surface.
(ii) Keep the windows of your vehicle closed in order to avoid any sort of leakage.
(iii) After establishing connections with the air compressor or hose, the electrical wires should be kept away to avoid any complications.
(iv) The canister should be loaded with a diluted washing solution.
(v) In case you are using a bristle nozzle, then surface debris should be removed beforehand.
(vi) The cleaning procedure should be followed from top to bottom, and the wheels should be cleaned in the last, to avoid any sand or stones that may hit your vehicle. The car should be lathered with detergent, for best results.
(vii) After applying the detergent, wait for around five minutes, so the toughest grime may loosen.
(viii) After that, the detergent should be removed and water should be used to rinse your vehicle.
(ix) Sponge or washing mitt should be used on delicate surfaces.
(x) The surface can be easily dried up with a soft cloth or a towel in the end.
(xi) As all of us are well aware, the longevity of any vehicle or object is directly linked with its maintenance. So, go for regular cleaning, as the weather might damage the car paint or anything else.
Finally, just say goodbye to all the obsolete car cleaning techniques and go for the best high-pressure cleaning tools. This will not only increase your car's life but will also keep it sparkling clean. Let your neighbors be envious of you, haha. This article will be extremely useful whenever you need to buy a pressure cleaning product or any tips or tricks to be followed for a perfectly clean look. Give a new and fresh look to your precious possession…. your car.